70 18 2 2 0
KETOET GEDE, SINGARAJA, A SCENE FROM THE RAMAYANA,
RAMA AND LAKSMANA SPLIT THE DEMON WIRADA IN HALF
LOr. 3390-286, bottom and top
Two drawing on Dutch paper, no watermarks, 43.5 x 34.8 cm
bottom
A demonic being stands upside-down in the centre. His legs are pulled apart by tow men, one standing on either side of the demon. As a result the lower part of the demon's body is already split. Blood spouts form his back. The man on the right has light green skin, while the person on the left has white skin. A text in Balinese script in ink on the right says: "ramaddéwa", Ramadéwa, Lord Rama. At the top on the left is written: "laksmanna"", Laksmana, and in the centre: "swirade, masibak", Swirada split in half. In Latin script in ink Van der Tuuk has added: "Wirada". By Swirada the demon Wirada is meant.
This scene refers to an episode described in the Old Javanese poem Ramayana (IV: 4-8). Rama, Sita and Laksmana wander in the dangerous Dandaka forest. They have an encounter with a demon walking on his hands. He is called Wirada. He wants to fight them. Rama and Laksmana each grasp a leg. They start pulling. They split the demon;s body into half, as a result of which he dies.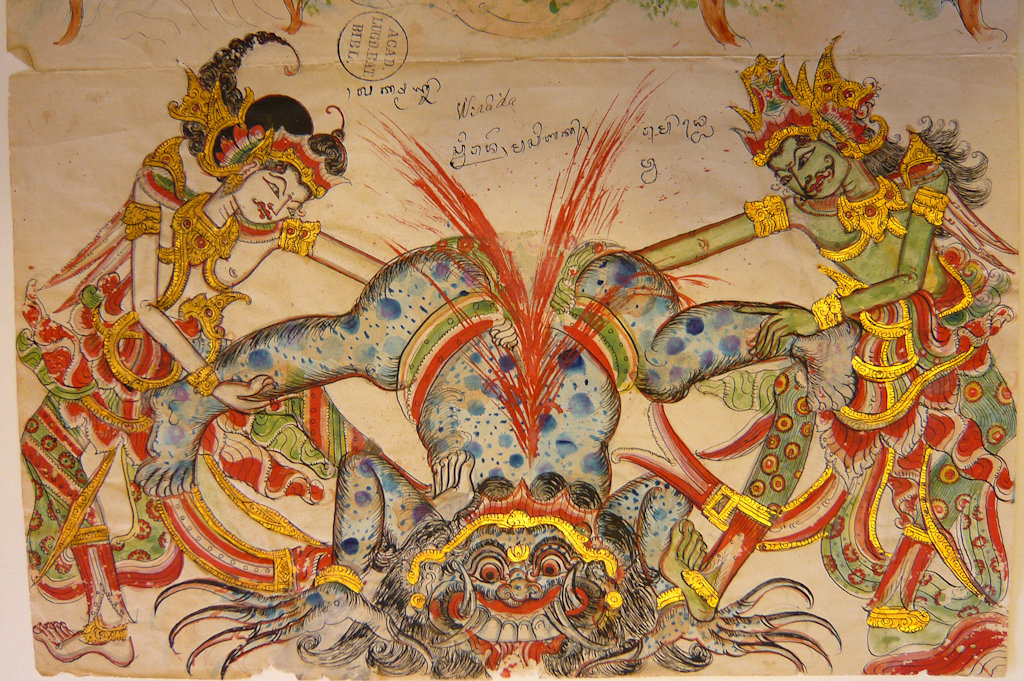 Two ascetics walk through the hills. They are going to perform asceticism
A text in Balinese script in ink at the top in the centre says: "watek pare resi, jage ngwangun yasa", the sages goe to perform asceticism.
The scene may refer to a remark made by Surpanaka to Rawana in the Old Javanese poem Ramayana (V: 9). She tells her brother that the Dandaka forest is very peaceful now that Rama and Laksmana have defeated the demons who lived there. The sages perform their fire-offerings regularly, and are not disturbed any more by demons.
The scenery with the slopes of the hills, the streams of water and the green trees is depicted in a very impressionistic way, whereas the two ascetics are in wayang style.