48 14 4 2 0
KETOET GEDE, SINGARAJA, DRAWINGS OF THE STORY OF KUDA ANGLUNG BAYA AND CANDRA KIRANA
LOr. 3390-132,
Two drawings on Dutch paper, watermark Concordia, countermark Vdl., 42.3 x 34.5 cm
Bottom:
Kuda Angling Baya is about to fight the red demon, Buta Abang. The demon's servant watches. Text in Balinese script in ink at the top on the left says: Hi buta habang mangmit ring taman bagendra, the red demon watches over the Bagendra garden. At the top right is written: ngaran hi lungbaya, kahutus ngalih campaka wilis ring taman bagendra, someone by the name (Ang)lung Baya is sent to search for the light green campaka flower in the Bagendra garden.
Anglung Baya, right, is confronted with the demon, who guards the Bangendra garden, who threatens him with his sword. Anglung Baya draws his kris to defend himself. A demon servant of the red demon watches the scene,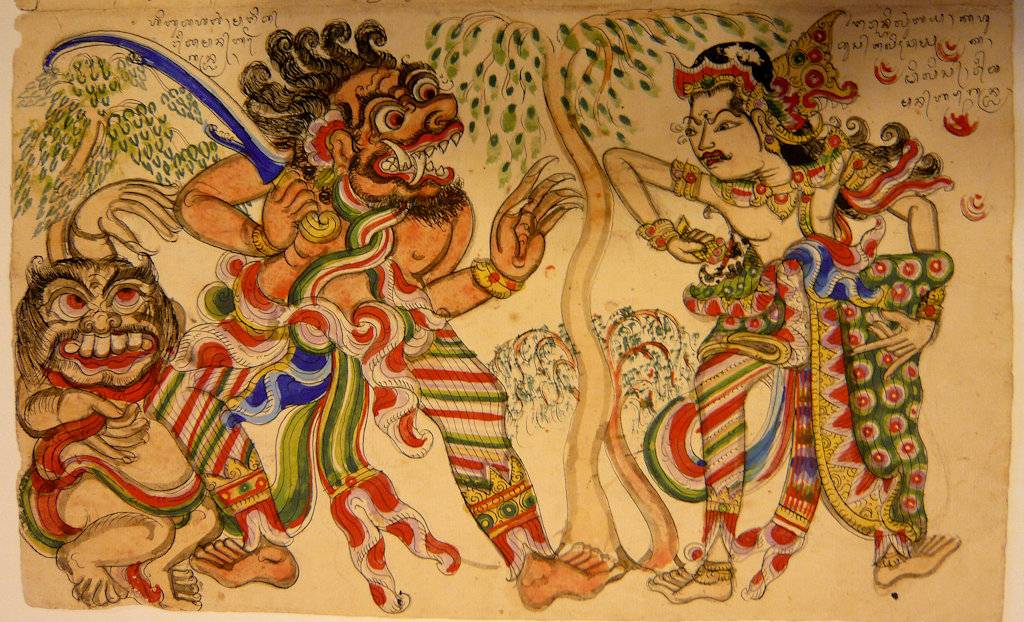 Top:
The green demon, Buta Ijo, of the Bagendra garden chases Semar and Turas. A text in Balinese script in ink at the top reads: ngaran hi bute ijo, hatunggu ring taman, ngmit campaka wilis, someone called the Green Demon, guards the garden and watches over the light green campaka flower.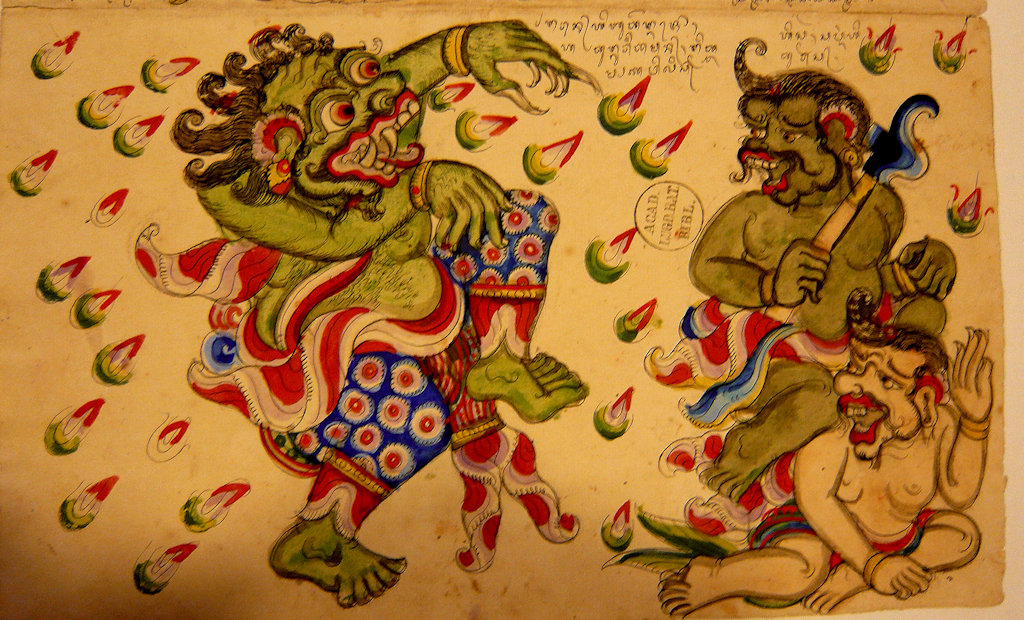 LOr. 3390-126
Two drawings on Dutch paper, watermark Concordia, countermark VdL, 42.5 x 34.5 cm
Bottom:
Candra Kirana, a princess of Daha in East Java, threatens Kuda Angling Baya, because he entered her garden and stole her rare flower. A servant tries to catch him, but she grasps only his loincloth. She pulls it off, so that he stands half naked before them.